Cooper River Bridge Project
Konya Industries was the lead on the design for demolition of the Cooper River Bridge Project. This project involved the explosive demolition of bridge piers that spanned the Cooper River in Charleston, South Carolina. These bridge piers spanned over two miles through the river and were composed of the old Grace Memorial Bridge and the Pearman Bridge.
---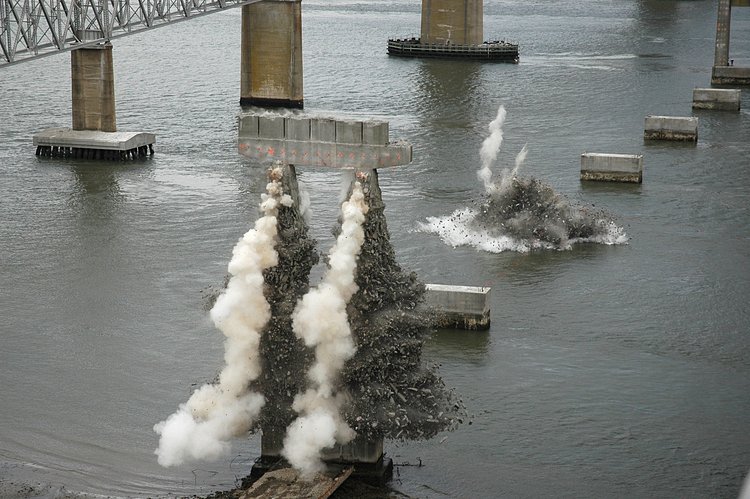 Project Goals
With a new bridge already constructed next to the large bridge spans, the main goal of the project was to avoid any damage to the new bridge through environmental aspects of blasting
The steel reinforcing rod was already sold by the primary contractor for recycling and in addition to demolishing the structures, the concrete had to be blasted off all steel to ensure recovery and minimal processing cost
Handle all government agencies: USACE, Coast Guard, ATF, Fire Marshall, etc. to ensure no violations of regulations, project safety, and proper project completion
Explosive Demolition
With the challenging goals for the explosive demolition of these bridge piers, Dr. Calvin J. Konya was called to site to design all blasting practices. Through a series of test blasts on Duck Island (approximately 70 feet from the new Arthur Ravenel Jr Bridge), Dr. Konya successfully designed blast practices that would completely strip the reinforcing rod of concrete, without causing substantial flyrock or air overpressure.
Project Completion
The project was completed with the successful explosive demolition of all bridge piers without any incident, delays, or negative effects to the new bridge.